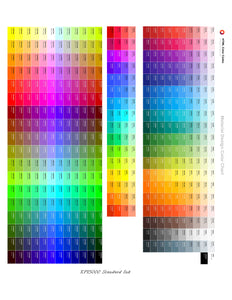 Design your own graphics? You need a HTML Hex Code Color Chart. This 12" print will show you how every color will actually print. Invaluable for those that are trying to get a specific color. The chart shows the color codes for each color. 
Please note, even when using the HTML chart color codes to design, colors may not exactly match. This is because every computer, monitor and printer is calibrated different. Most designs are created using RGB but printers print in the CMYK color spectrum. RGB is best described as what the eye can see. CMYK is what the printer can reproduce using Cyan, Magenta, Yellow and Black. Not every color shade is able to be reproduced. It is always advised to convert your artwork to the CMYK spectrum while designing. This will give you a more accurate printed color representation. It is also a good practice when possible to design using the same ICC Color profile as your printer.

If you need the ICC I print in, please ask. Happy to provide it.
Full Pressing Instructions provided. It is advised to press onto white fabric to see each color and code the clearest.
 2-5 Business Day TAT
*Shipping not included!