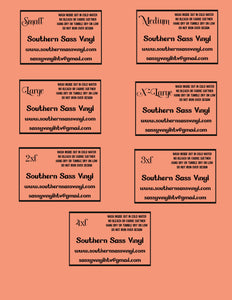 DTF Transfers are easy to use ready to press heat transfers for 100% cotton and cotton blends. These may be used on dark or light garments as each print has a true white under base. There are no color limits with DTF. 

 Printed as a gang sheet with 18 tags per sheet in your choice of color (color must be in the CMYK gamut range). Tags are 3"x2" each. Please enter your requested information in the Customization Box (up to 5 lines; Business name, website, contact info or social media account(s) are recommended). These tags will NOT have washing instructions or sizes only your business information (unless you use 1 of the lines for the size).
There are no minimum purchase amounts for DTF Transfers. Price is per sheet with different pricing tiers based on quantity. You may mix and match ink color and design (Ex: 8 White and 10 Black  would total 18 sheets so you would choose the 10-20 pricing tier). To order, select the Pricing Tier and enter the actual sheets you are requesting in each ink color.
DTF Transfers require a heat press to apply as they need even heat and pressure.
**Current TAT is 3-7 business days for up to 10 prints or 7-12 business days for 11-50 prints. Timeframe may increase with larger orders over 50 prints. Please contact me prior to ordering for a more accurate TAT. I strongly recommend Priority Shipping and Route Insurance for all orders.