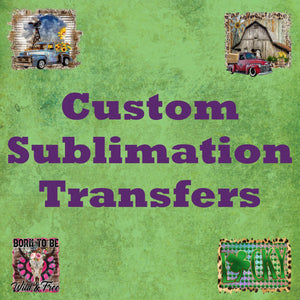 Please email the design to sassyvinylhtv@gmail.com .  
I will print designs you purchase or create. Your designs are safely placed in temporary files and never used for any other order but yours. The design will be deleted from my files after printing. If you find a design on Google, please do your best to find the original designer to purchase from. I use and recommend the Facebook group Desperately Seeking Digital Designs. They are a great resource for finding the original artist. 
There is no art set up or design fee on print ready designs. Please send designs via email after purchase to sassyvinylhtv@gmail.com. Acceptable art files are SVG, PS, AI, PNG or PDF. All files should be high resolution of at least 300 DPI, have a transparent background and be sized at the print size you want. On gang sheets, please space designs a minimum of .25" apart and away from the margins. See below for more information.
Sublimation Transfer- Now available in 2 ink types, 3 sizes and in single image or gang sheets!
Sublimation is the #1 type of transfer. It has no hand (meaning you can't feel it on the shirt) and produces bright vivid prints. Sublimation is meant for white/very light colored polyester garments or substrates coated with a special poly coating. This is the lowest cost transfer available. Print will last the lifetime of the item. The special inks turn into a gas and actually bond to the item so it stretches and conforms to the item. Cons of sublimation is that it is limited to polyester that is white or light colored only. Sublimation does not print white so any white details will press the color of the item it is pressed on. It is recommended to press on garments that are at least 65% poly. Sublimation also requires a high press temperature and can scorch blended fabrics (it is the cotton that scorches). A heat press is needed to get even temperature across the entire transfer. A home iron is not recommended. Available in standard ink or Fluorescent Glow Ink (please see the actual FG listing for more details).
Full Color Low Temp Toner Transfer- (NOT CURRENTLY AVAILABLE)
FCLT transfers are the #2 type of transfer. It has a hand but is lighter than HTV. This type of transfer can go on light or dark items of all types. Blended fabrics work great because of the low application temperature. These transfers print in full color including white which make them perfect for dark tees. Some colors can cause issues such as red or dark blue because the dye migrates and mixes with the toner causing color issues. It is recommended to use tri blends or 100% pre shrunk cotton. There is a learning curve with these transfers. They are not recommended for people new to garment decorating. These transfers can be temperamental as far as they need a good heat press with even consistent temperature and pressure. A heat press is needed to get even temperature across the entire transfer. A home iron is not recommended. Some people find these easy to use and some people do not. I believe the difference is what quality heat press they have. Approximate size is 8.5x11
Sublimation+ Glitter HTV Transfer- 
Adds a ton of sparkle. Can be used on any item HTV can be used on. Does require a good eye as you have to line up the HTV with the sub print. If you can layer HTV/vinyl you can do this. The HTV can be sublimated before or after it is put on the garment. I recommend YouTube to see this process. The hand is thick like all HTV. The white detail in the graphic comes from the HTV. Approximate size is 8.5x11
Low Temp Sub-Cotton Transfer- 
Very similar to printed HTV but is thinner and has a softer hand. This transfer is for 100% pre shrunk white or very light colored cotton only. Because it is so thin, darker colored shirts show through the transfer causing the colors to be off. The carrier is not sticky, and you have to be careful not to rub the design off the backing sheet. Colors are still bright but not as vibrant as regular sublimation. White details in the design come from the unprinted portion of the transfer as sublimation does not print white. Approximate size is 8.5x11
Please allow an additional 3-5 business days for custom sublimation orders and 2-3 weeks for custom screen prints. 
* If your design needs work, the art fee starts at $10. This is an artwork design correction and set up fee NOT an art work creation fee. If there is any art rework, a proof will be sent for approval prior to printing.
** Gang sheets are for multiple designs printed on the same sheet. They can be the same design or different. Charged by the sheet not by the design.
Example- if you want a gang sheet of 4 5x5 designs but you don't have the designs already on 1 ready to print file sized at 5x5, you could send all 4 designs and I would create the gang file for you and then print on a 11x17 sheet.
If you send a image you got off Google and want me to recreate it, that is design creation and is not covered in the $10 design fee. Prices for art creation are separate and range from $5- $65 per design. I will NOT recreate copyrighted images such as Disney, NFL ect. Before I agree to recreate, you will need to show you have tried to find the original artist. (Not required if a design from a company shirt is needed ect)
***NOT RESPONSIBLE FOR PRINTS MADE FROM IMPROPERLY FORMATTED ART WORK.  If your design is blurry on the screen it will be blurry when printed. Colors you see on your screen will not exactly match colors of prints. I do NOT guarantee color matching.