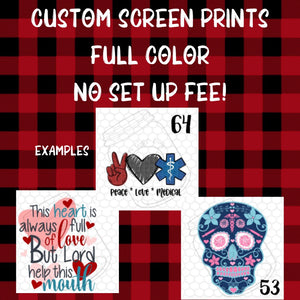 Current TAT is 8-10 business days
Screen prints are easy to use ready to press heat transfers for 100% cotton and cotton blends. These may be used on dark or light garments. Screen prints are wonderful for large orders of the same design. 
There is no art set up or design fee on print ready designs. Acceptable art files are SVG, PS, AI, PNG or PDF. All files should be high resolution of at least 300 DPI, have a transparent background and be sized at the print size you want. Please space designs a minimum of .25" away from the margins. Please email designs after ordering to sassyvinylhtv@gmail.com.
2 sizes available: up to 9"x12.75" or up to 12"x12" (if you are wanting a smaller size, you will enter the requested size in the comment section of checkout.
Price is per print. There are minimum purchase amounts for screen prints and different pricing tiers based on quantity. To order, select the Pricing Tier and enter the actual quantity you are requesting.
I will print designs you purchase or create. Your designs are safely placed in temporary files and never used for any other order but yours. The design will be deleted from my files after printing. If you find a design on Google, please do your best to find the original designer to purchase from. I use and recommend the Facebook group Desperately Seeking Digital Designs. They are a great resource for finding the original artist. 
Screen prints require a heat press to apply as they need firm pressure and even heat.
Current TAT is 12-20 business days. This is due to longer ship times for materials.
***NOT RESPONSIBLE FOR PRINTS MADE FROM IMPROPERLY FORMATTED ART WORK.  If your design is blurry on the screen it will be blurry when printed. Colors you see on your screen will not exactly match colors of prints. I do NOT guarantee color matching.