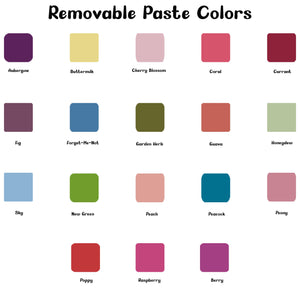 This chalk paste is a premium product that can be used on a variety of items. Perfect for use on chalkboards, whiteboards, tile and glass. When you are ready to change your design just wash under running warm water and rub with a soft cloth. If you wish to make the design permanent, you can use a sealant appropriate for the substrate.
(Not recommended for use on wood, fabric or porous surfaces that can not be cleaned with water or that may stain)
Full instructions included. 
3 fl oz. container of  Paste. Use with Silkscreen Stencils.
Please allow 3-5 business days for delivery.
 (Recommended items to make your project easier (NOT INCLUDED): wax for chalkboards, soft clothes and a small squeegee)